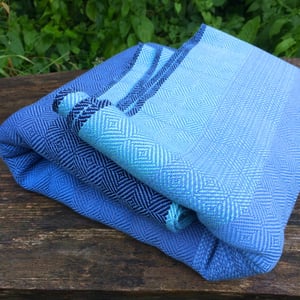 kr

2.000,00
English (se dansk nedenfor):
Soft and cozy baby wrap, size 5. Handwoven by Birthe P (me).
Dimensions: 71 x 413 cm.
Weight: approx. 280 grams pr m2.
Blue gradient in warp, medium blue in weft. Draft: Diamond Twill (Dornick's twill)
100 % cotton, unmercerized.
This is a one-of-a-kind item, but it has a "sister-wrap" in emerald green.
Shipping: insured package. Note that it may be cheaper than you pay up front. I'll make a refund if that is the case.
Dansk:
Blød og lækker baybvikle (fastvikle), str. 5. Håndvævet af mig, Birthe P.
Dimensioner: 71 x 413 cm.
Tæthed/vægt: ca. 280 gram pr. m2.
Blå gradient med striber på længden. Vævet ind med en mellemblå. Teknik: Krystalkipper.
100 % bomuld, umerceriseret.
Unika. På samme trend er vævet en "søster-vikle" i smaragdgrøn.
Sendes som pakke uden omdeling, medmindre andet ønskes.